Beaujolais makes some of my favorite French wines. If Burgundy and Bordeaux are aristocratic, Beaujolais is blue collar. The wines are fruity, a little rough, and often floral. Try a few and you will know what I'm talking about.
As a wine making region, Beaujolais is Burgundy's untalked-about cousin to the south. Technically, Beaujolais is part of the Burgundy family, but one gets the impression that Burgundy could do without Beaujolais -- and that Beaujolais would prefer it that way.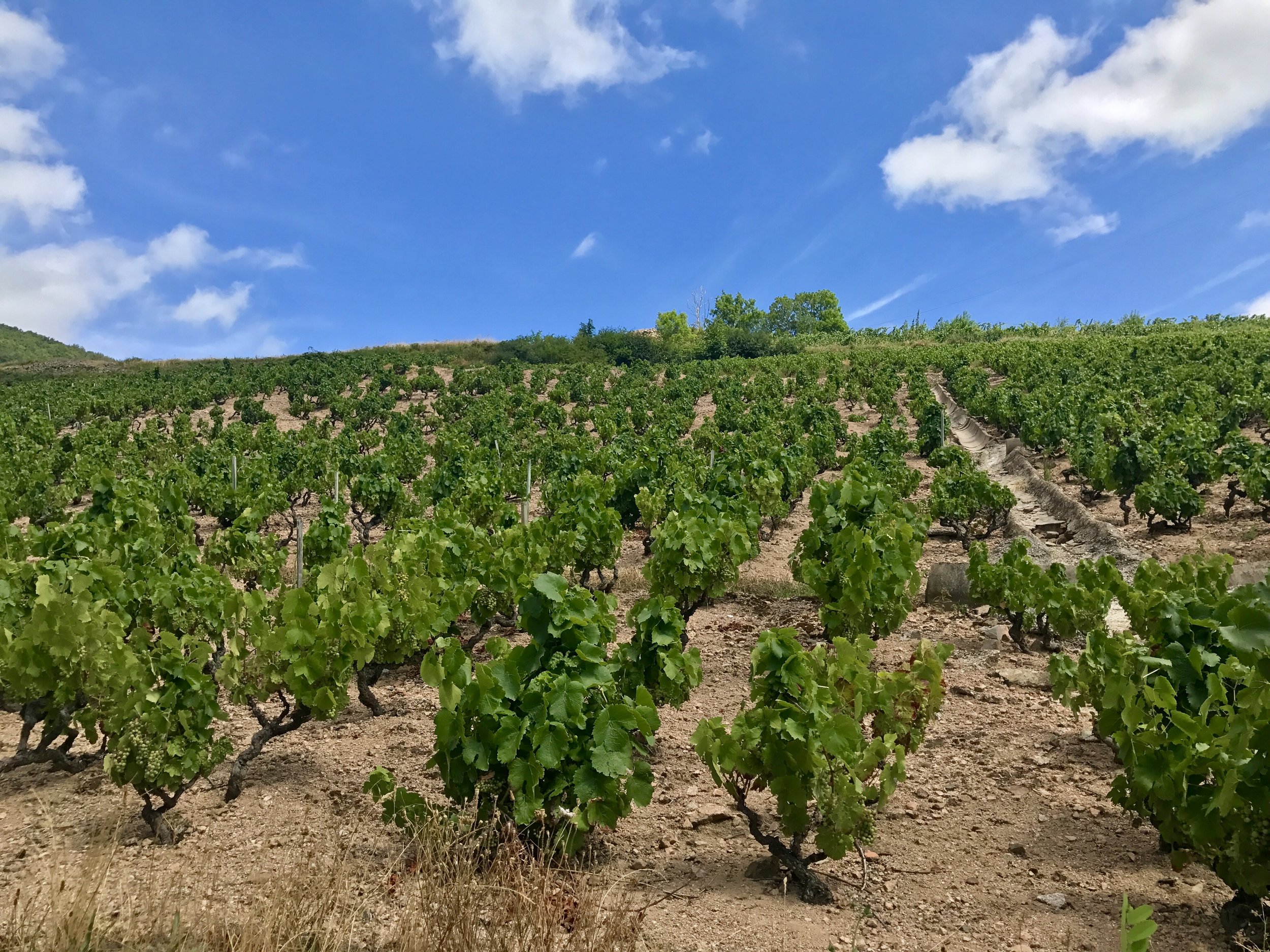 This is an example of vines we typically saw driving through Beaujolais...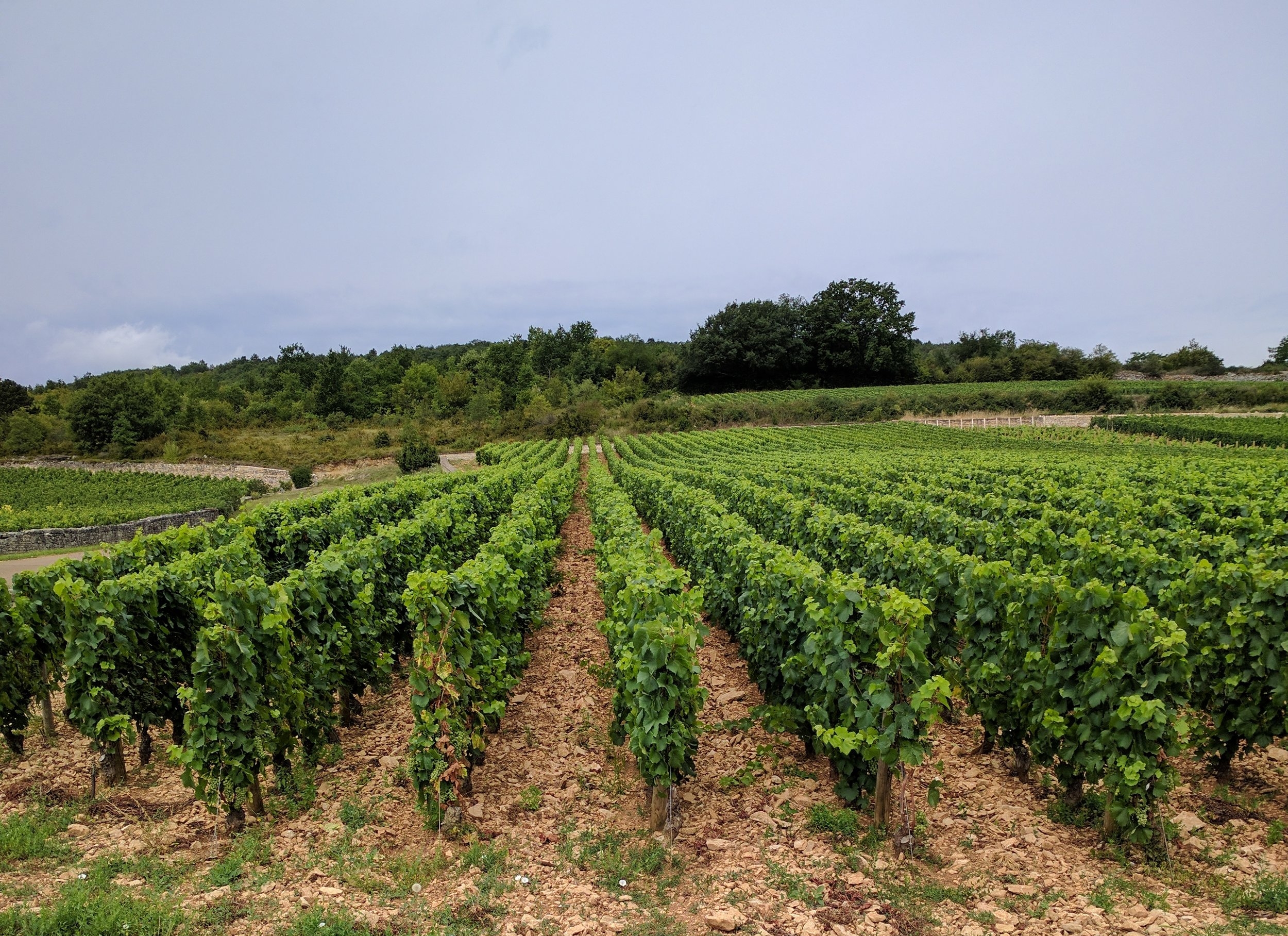 ...versus the perfectly manicured, trellised vines throughout the rest of Burgundy.
A Few Very Quick Background Facts
With limited exceptions, Beaujolais makes red wine using exclusively Gamay grapes. If you remember anything from this post as a wine drinker, it should be that. The next time someone hands you a Beaujolais wine say, "Nice! I'm a Gamay fan." That's what I do. Instant credibility! :)
Many people, if they have heard of Beaujolais, think of the wine called Beaujolais Nouveau. This gimmicky wine is released once per year on the third Thursday of November. It's made using a special, rapid fermentation technique, so the grapes are from that year's harvest and, thus, only a few weeks old. To be sure, Beaujolais Nouveau is plonk, meant to be drunk right away and not pondered over. Having said that, Nicole and I have fun buying a bottle each year while triumphantly declaring, "Le Beaujolais Nouveau est arrive!"
Beyond Beaujolais Nouveau, the wines are less known outside of France. In the U.S., you are probably going to see wines labeled either "Beaujolais" -- the lowest classification, comprised of grapes from large swaths of vineyards in outlying areas of the region -- or "Beaujolais-Villages" -- the next step up, comprised of grapes from more select vineyards near ten villages running north to south through Beaujolais. In my experience, larger wine shops in the U.S. often carry a Beaujolais-Villages in the $10-$20 range. Try one! I think these are generally a great value.
Beaujolais' highest classification, cru, is made from vineyards bordering the ten "cru" villages of Beaujolais. Wine Folly has a great map of the various villages and vineyards here. To be honest, prior to this trip, I didn't know the cru classification existed in Beaujolais inasmuch as these wines are not typically seen in the U.S. Cru bottles solely display the name of their village (e.g., you would only see "Fleurie" or "Morgon" -- two of the village names -- on the label). Nicole, for her part, was not a Beaujolais fan until trying the cru wines. Now she is!
A Day Touring Beaujolais' Vineyards
Burgundy is approximately an hour and a half drive south of Beaune. Perfect for a day trip.
We only made it to one winery, Domaine Cheysson in the village of Chiroubles, but most of our fun was just driving through the various vineyards and villages.
Domaine Cheysson's owner/winemaker, who showed us around around the picturesque grounds, couldn't have been nicer. We looked around the facilities, saw the labeling machine in action, and then tried all of the wines. Of note, wines in Beaujolais are much more affordable than Burgundy's more famous wines. At Domaine Cheysson, the bottles ranged from €8-15. A recommended stop.
Beyond that, we made a stop in the village of Beaujeu, which has a nice souvenir/wine shop, La Maison du Terroir Beaujolais, in the town square, complete with an "interactive tour." We skipped the tour but did pick up four half-bottles so that we could conduct our own "cru" tasting later that night.
Regarding food stops, most of Beaujolais' villages are smaller without many dining options. We stopped in the village of Fleurie for lunch at Auberge la Bascule. So French! Men and women, young and old, dressed from business suits to construction attire, all drank wine and ordered the three course menu du jour (appetizer, main, cheese plate or desert) for €18. We joined in, me having steak frites and Nicole the coq-au-vin. Both were excellent.
Overall, being a Beaujolais fan since before our trip, it was so much fun spending a day there and seeing the vineyards and villages up close. Hurray for Beaujolais! :)
Like this post? Want to read more about Travis and Nicole's travel adventures? Check out The Case For France - Cheese Your Own Adventure!.
Then sign up here for the Sunday Shoutout, our weekly email newsletter providing a link to that week's blog posts and a few other odds and ends we are interested in.